English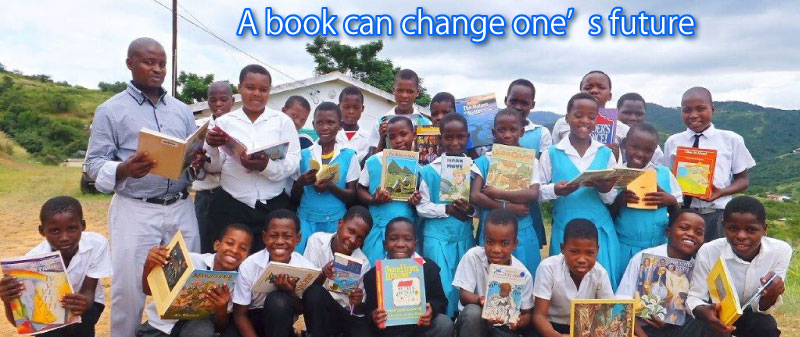 About TAAA
Together with Africa and Asia Association or TAAA is an NGO based in Saitama. We have been assisting education in South Africa from Japan since 1992 mainly by sending about 10,000 English books every year to disadvantaged schools in rural areas where education had been neglected during the apartheid and people still suffer from poverty and mass unemployment due to lack of education and skills.
<background>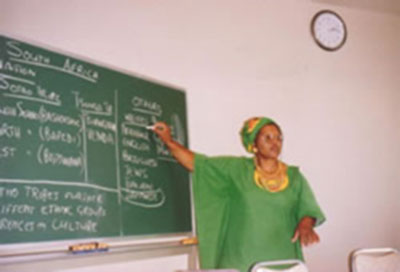 Community leader visiting Japan
Chikako Noda, the founder and former Chairperson of TAAA, will never forget her responsibility as a Japanese citizen for Japan becoming the biggest trade partner of South Africa in 1987 when the United Nation decided to put economic sanction on South Africa to end apartheid. In 1992 she met a South African community leader, Mrs.Eunis Komane at the Tokyo ANC office where Chikako worked as a volunteer to support the rebirth of South Africa as a new democratic nation. Sending English books was one of the community leader's strong requests. Chikako soon started to collect second-hand English textbooks across Japan to send South Africa to meet her request and that was the start of TAAA's long lasting friendship with South African people.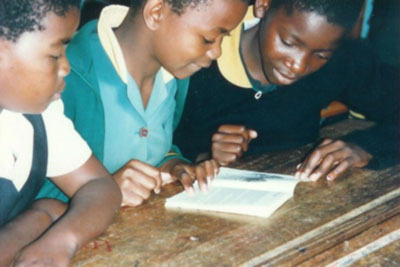 Sharing a book from TAAA, 1995
The post-apartheid South Africa started its struggle to improve long-neglected education in disadvantaged areas. The problem of book shortage in schools was too devastating to be solved soon. "Books are food for learners. It is so depressing to have no books in schools in the new South Africa" ,complained recipient teachers. We kept sending English books trying to make the situation better. TAAA's books have been sent to Gauteng, Free States, Western Cape, Northern Cape, Eastern Cape and KZN. For more efficient use of the limited number of books, we also sent some mobile library buses to several states of South Africa.

We set up an office in a rural area of KwaZulu-Natal to understand and work better on the needs of local schools and communities in 2001.

Activities
We have an office in Kwazulu-Natal run by a Japanese project manager who visits the target schools every day to work with the educators and learners based on the three key projects.



School library project
School/community gardening project
Soccer project


Believing in learners' potentials, we encourage them to get involved in the managing activities of the committees to run the projects and thereby develop their leadership skills.

Project manager working with learners.

School organic gardening
Get involved
We appreciate your cooperation by



| | |
| --- | --- |
| ○ | Donating used English books |
| Level: | From pre-school up to adult |
| Most needed: | Picture books, stories written in plain English, English-English dictionaries |
| We do not collect: | newspapers, journals, academic books, books written in any other languages than English. |
| ○ | Offering monetary support |
| ○ | Joining our activities |
| ○ | Letting your friends know about us |




To South Africans
Our South African Office collects English books locally.
Please contact us to send books or any other cooperations.
Contact →info@taaa.jp



Learners and TAAA local staff

Packing books for South Africa.
Donate
Your monetary support would be highly appreciated.
Postal/Bank transfer
Account Name for donation transfer
"Together with Africa and Asia Association"
○
Postal:
00100-4-608515
○
Bank:
The Bank of Tokyo-Mitsubishi UFJ
Urawa – branch 0262762
Credit card

Softbank cell phone charge

Contact
TEL:
090-9957-2256
E-mail:
info@taaa.jp
Office Address:
5-17-1 Oto,Chuo-ku, Saitama-shi
Saitama, 338-0012 Japan
Address to send books
Mr. Kennichi Kitazume
1-321 kagohara-minami Kumagaya-shi
Saitama, 360-0847
TEL:
048-532-5236